ARS Victoria Newsletter – February 2021
Date:

2nd March 2021

author:

Alan Kepert
RHODODENDRON IN FOCUS
Rhododendron griffithianum Subsection Fortunea
This species is regarded as one of the best in the genus. It comes from Nepal, Sikkim, Bhutan, and NE India at 1800 to 2900 metres, generally in forests. The flowers are large, white, and freely produced, usually with a greenish area in the throat. It is not well-known in England due to it being frost-tender, and was extensively crossed with hardier species, such as R. fortunei to produce the Loderi hybrids. The RHS handbook lists over 30 hybrids with F.C.C. and A.M. awards suitable for english conditions. While English gardens are too cold for R. griffithianum and some Melbourne gardens are too hot, but there is an alternative. This species seems ideally suited to the climate at Olinda, and we have a large number around 6 metres high in the Maddenia Walk area which were planted in the 1960's and flower prolifically in the first week of November.
To read more of the great things that are happening in the Victorian branch of ARS please download the newsletter!
Latest Newsletters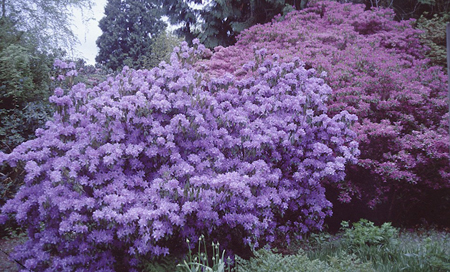 MORE