Emu Valley Newsletter – September 2020
Date:

11th September 2020

author:

Maurie Kupsch
RHODODENDRON PROTISTUM VAR GIGANTEUM
George Forrest first discovered R. protistum in May 1918 and the following year discovered R. giganteum, both in Yunnan. For many years these two plants were considered to be different species, the main difference being in the leaves. While R. protistum had a glabrous underside, R. giganteum had a continuous brown to fawn indumentum.
Considering the size that R. giganteum attains in the wild (20- 30 meters, hence the name )and can take 50-60 years to develop indumentum, it is now evident that they are one and the same species, R. protristum being just the juvenile form.
At Emu Valley our plant is around 30 years old and has been flowering well for the last three years. The new leaves develop indumentum around the edges, another sign that our R.protistum is starting to mature.
R.protistum has a wide distribution in the wild from Yunnan to South-east Tibet, East Arunachal Pradesh, North-east Upper Burma and North Vietnam. The flowers are tubular-campanulate produced in large trusses of up to 30 and can range in colour from pale rose, crimson-purple or rosy-crimson. The leaves are also quite large 50 long x 90 mm wide. Our plant resides in Upper-Burma and can be viewed from the Noel Sullivan walk.
To read more about what's happening in Emu Vally Gardens download the newsletter.
LATEST NEWSLETTERS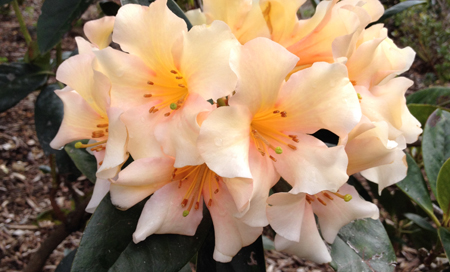 MORE