Emu Valley Newsletter – October 2023
Date:

10th October 2023

author:

Neet
AROUND THE GARDEN
What a crazy couple of weeks we have had at the garden! Actually, now that I sit here and think about it, the word 'crazy' doesn't really cut it!
Our wonderful volunteers along with the dedicated employees have all pitched in and worn many hats these past few weeks. I just can't get over how well we have all rallied together to get so many jobs completed and help keep one another sane! The renovations to the function room, as well as the transformation of the plant sales shed, which is now known as the 'Plant hut', has definitely been a talking point amongst the volunteers and it is pleasing to hear that majority are on board and excited for the next chapter ahead.
The moon gate is almost complete. The small dedicated team that has been working on this project have got it to the stage that it is safe to walk through the area now and have unblocked the walking tracks leading to it. It is not finished but won't be far away so if you get the chance to visit the garden, make sure you go and check out the amazing work of art that has been created by our talented volunteers. It's going to be picture perfect!
To read more news including the ARS conference to be held here in October please download the newsletter.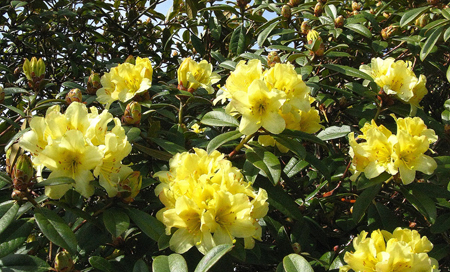 Latest Newsletters
SATURDAY 18th November 2pm. ARSV tea room, Dandenong Ranges Botanic Gardens, The Georgian Rd, Olinda