Emu Valley Newsletter – July 2023
Date:

6th August 2023

author:

Editor
VALE ERIC WEEKS
Very sadly, Eric Weeks died on 26 June.
He was a Life Member, Treasurer for many years and the sole creator of all the dry-stone walling within the garden (a huge feat on its own). He was a generous, kind, and patient man, much respected and loved by all. He always helped with hay carting, and he would supply members with tomatoes from his garden. He supported Essendon and loved the horses.
When Eric was awarded Life Membership in 2014, Maurie Kupsch had this to say:
"Eric's contribution to Emu Valley has been nothing less than outstanding.
His involvement spreads over a period of 25 years, with the last 17 years carrying the responsibility of Treasurer. A quite incredible contribution which has involved many hours work, particularly when the Tea Room is operating. It is Eric who collects and counts the days takings then returns with the float each morning to have all in readiness for the volunteers that day. He never even complains when the wrong numbers are pressed to produce the most unlikely results on the till.
To read more about Eric's contribution to theEmu Valley Rhododendron Garden and also other current happenings please download their newsletter.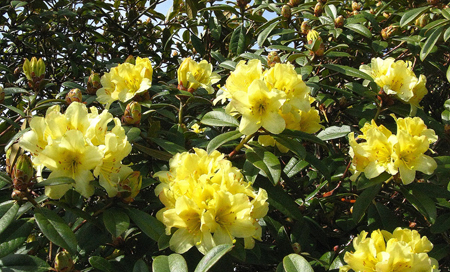 Latest Newsletters
SATURDAY 18th November 2pm. ARSV tea room, Dandenong Ranges Botanic Gardens, The Georgian Rd, Olinda