Emu Valley Newsletter – February – March 2023
Date:

24th April 2023

author:

Maurie Kupsch
RHODODENDRON SUTCHUENENSE
Subsection Fortunea contains some beautiful species. The delightful perfume of decorum and fortunei certainly let the visitor know they are in flower, the interesting leaves of R. hemsleyanum, or the unusual wavy edged leaves and the long tailed buds of R. auriculatum. R. sutchuenense is a member of this subsection. R.sutchuenense was discovered by A. Henry 1888 in western Hupeh and by other collectors in Hupeh and Sichuan, growing in bamboo and ever- green Oak thickets.
The species was first introduced by Wilson in 1907 from west Hupeh. It can grow into a large shrub to 6m in the wild. Our plants are growing well but I do not expect them to reach near that. R.sutchuenense has oblong-obovate, oblong-oval or oblanceolate dark green leaves, upper surface matt, undersurface pale green with minute hairs along the midrib. Flowers are widely campanulate light or deep rose, white tinged pink or mauve-pink with crimson spots and are presented in a truss of 9-12 flowers.
Our plants at Emu Valley can be seen on the right hand side of the middle road just after Betula luminifera and before Ginkgo biloba.
To read more please download their newsletter.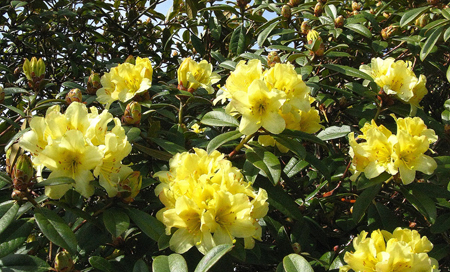 Latest Newsletters
SATURDAY 18th November 2pm. ARSV tea room, Dandenong Ranges Botanic Gardens, The Georgian Rd, Olinda