Emu Valley Newsletter – August 2012
Date:

11th August 2021

author:

Maurie Kupsch
R.CUBITTII 'ASHCOMBE'
R. cubittii 'Ashcombe' was a very popular species at early Rhododendron Society meetings when monthly 'show and tell' competitions were held. The delicate colour and size of the flowers proving a winning combination.
R. cubittii is a upright spreading shrub 1.5-2 meters high with peeling brown bark revealing a shiny smooth bark beneath, the branchlets are bright green and somewhat sparsely bristly. Leaves are oblong-lanceolate 9-10 cm long and 3-3.7 cm wide, the upper surface dark green, the under surface some times glaucous and covered with medium-sized scales.
The large corolla is widely funnel-shaped 5 lobed, the margins are undulate, white, or white flushed pink with a yellowish blotch at the base and light brown spots. These flowers are produced in groups of three to four at the ends of last year's growth.
R. cubittii was only collected once by G. E. S. Cubitt in the Bhamo Division of North Burma in March 1909 and introduced by him the same year, with no reference to its growth habit in its native home. Thus R. cubittii no longer holds species status. It has been placed into R. veitchianum (Cubittii Group) which is found in similar locations in Burma.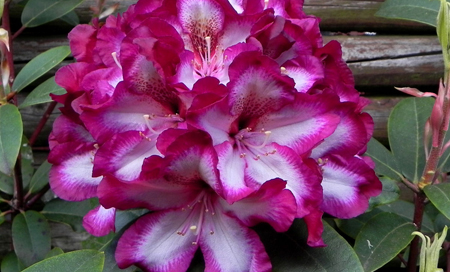 Latest Newsletters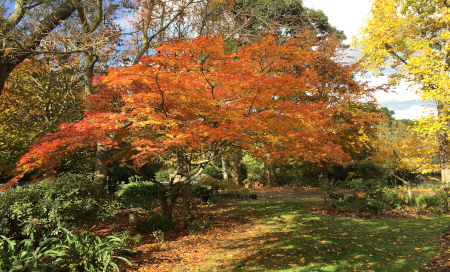 Saturday 23rd April 10am -3pm, Emu Valley Rhododendron Gardens, 55 Breffney Rd, Romaine, Tasmania