Guest Article
RHODODENDRON UPDATE 4
Date:

12th March 2016

author:

Francis Crome
INTRODUCTION
This is the fourth part of our Rhododendron species update and contains 4 Near Threatened (NT) species, all almost meeting the IUCN criteria for Vulnerable, and three new vireyas recently described. It also includes a range of other vireyas recently elevated from subspecies to species status by the late Lyn Craven.
Our methods are described in the July newsletter but are summarized in Appendix 1.
For these threatened species we have searched on line to determine whether it is in cultivation and where. Our major sources were the Global Survey of Ex situ Rhododendron Collections (BGCI 2011), the Multisite Search page of the Royal Botanic Garden Edinburgh (MSEBG 2014) and the Database of Asian Plants in Cultivation (DAPC 2014)
SPECIES ACCOUNTS
In the following accounts the species name and author is given followed by the journal reference for the original description. Then follows a small account of the species. More detailed descriptions can be found in the references with each account.
Part 1 Near Threatened Species
Rhododendron longesquamatum C.K. Schneid.
1909. Ill. Handb. Laubholzk. 2: 483
Subgenus Hymenanthes, Section Ponticum, Subsection Maculifera
This is a large shrub or small tree up to 6m tall with grey bark and dense shaggy young shoots. The leaf is leathery, oblong-oblanceolate to narrowly obovate, 5.5-15.5 × 2-4.5 cm with a rounded base and recurved margins, dark green above and paler below and a shaggy midrib. The pink to rosy-red, open- campanulate flowers have a deep crimson blotch and are born on 6-12 flowered inflorescences. It usually grows in fir forests, sometimes on cliffs, at 2300-3400 m in a few localities in western Sichuan. It is grown in gardens overseas and is available in nursery catalogues in the USA and Europe.
For the complete article download the pdf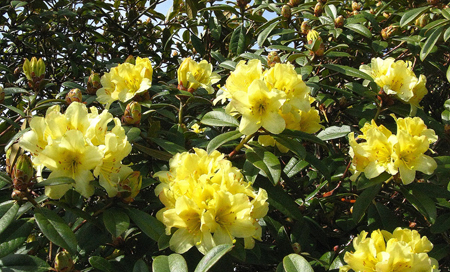 Latest Newsletters
SATURDAY 18th November 2pm. ARSV tea room, Dandenong Ranges Botanic Gardens, The Georgian Rd, Olinda