Rhodo Magnolia Camellia trip to Germany 2023
AUSTRALIAN RHODO MEMBERS CALLOUT FOR INTEREST ASAP!!!!!
Expressions of interest invited for the RCMG trip to Germany, May 2023
At last, the long awaited Rhododendron, Camellia and Magnolia Group Visits are about to begin again! For our first visit we are kicking off with an exceptional 4 day Germany trip in (approx 15th-19th) May 2023, to the historic Ammerland region of North Germany, an area rich with rhododendrons and other treasures which grow in its deep peaty soils. Led by David Millais, Nurseryman, life-long plantsman, Vice-Chairman of the RCMG and owner of Millais Nursery, the planned schedule includes* Bruns Rhododendron Park, Hachmann Nurseries, Hobbie Rhododendron Park, Park der Garten and Schroeder Nursery.
David is very excited to share some of his favourite parks and gardens of the region with you, including in addition to the above, highlights such as:
- an entire day at Bremen Rhododendron Park where Dr Hartwig Schepker will show the group around Bremen Rhododendron Park and Botanika with its 600 species and 3000 cultivars of rhododendrons, as well as tender varieties in its giant glasshouses;
- Lütetsburg Castle Garden with a magnificent, historic collection of hybrids from the nineteenth century;
- Entrance to the fabulously impressive Rhodo event at Westerstede which David has been going to for more than 20 years, and which draws a crowd of more than 80,000 visitors!
If this wonderful opportunity to discover some of the gems of Ammerland has inspired you, then please contact Dr. Wendelin Morrison, RCMG Events Coordinator events@rhodogroup-rhs.org or Mr. David Millais vc1@rhodogroup-rhs.org by the 31st August, 2022, to be added to our list of interested members and you will be sent further details as they become available.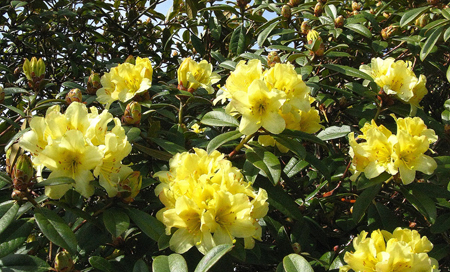 Latest Newsletters
SATURDAY 18th November 2pm. ARSV tea room, Dandenong Ranges Botanic Gardens, The Georgian Rd, Olinda