2018 The Rhododendron
Date:

21st February 2019

author:

Andrew Rouse
EDITORIAL
Welcome to a bumper issue of The Rhododendron. It has been a busy year across the Society branches with propagation days, talks and garden tours, in addition to the ongoing volunteer work at Emu Valley Rhododendron Garden, Mount Lofty Botanic Garden, Dandenong Ranges Botanic Garden, the Campbell Rhododendron Gardens and Tamborine Mountain Botanic Garden.
In May, eight members travelled to Sabah to see vireyas in the wild,
visiting Mount Kinabalu and Trus Madi, with a side trip to Singapore to visit the Gardens by the Bay, where vireyas exported by Neil Puddey are a major feature of the Cloud Forest display. I was one of the fortunate eight to participate in the trip, and it was wonderful to revisit Mount Kinabalu (I climbed it in 1990!), to scale the more remote and less-visited Trus Madi, and to see many vireya species growing in the wild.
We welcome back past contributors, Dr George Argent and Frédéric
Danet. George writes about the re-discovery of two enigmatic Philippine vireya species, R. nortoniae and R. whiteheadii; Frédéric on electron microscope observations of the scales of R. cravenii and R. gardenia. We also have an article on field observations on R. sessilifolium in Sumatra, received coincidentally when my mature specimen of that species was in full flower!
A new species is described – R. shingbae. This species from Sikkim, is closely aligned to R. cameliiflorum. The Rhododendron is not a peer reviewed journal, however we do publish articles describing new species or taxonomic reviews, as a contribution towards advancing our knowledge of the genus.
An update is provided on the specimens of R. viriosum and R. lochiae
collected in North Queensland in the project managed by the Australian Tropical Herbarium and supported by the Society. These plants are now held at the Dandenong Ranges Botanic Garden, and in time will be displayed in a dedicated bed in the gardens....
CONTENTS
Editorial · Andrew Rouse ………………………………………………………………......3
President's Report · Jeff Jenkinson …………………………………………………..…5
Reports – Australian rhododendron groups …………………………………...…..6
Tribute to Simon Begg · Andrew Rouse…………………………………………...... 16
Whibley and his hybrids · Milton Bowman……… .................20
Inaugural meeting of the Global Rhododendron Conservation Consortium · Terence Moon………………………………………………………........… 25
Two enigmatic endemic Philippine rhododendrons re-discovered
· G. Argent, P.B. Pelser & J.F. Barcelona ………………………..……………........……27
Scanning electron microscope observations of leaf scales in Rhododendron cravenii and R. gardenia · Frédéric Danet & Anaïs Maïten Chaumeret……. 38
Sight record of potential butterfly pollination on Rhododendron sessilifolium · Wendy A. Mustaqim, Anggia O.D. Putri & Muhammad Suherman.................................................................40
ARS Trip to Sabah, Borneo, May 2018 · Henry Hancock & Andrew Rouse…..........................................................................................................................…47
R. viriosum and R. lochiae at Dandenong Ranges Botanic Garden
· Andrew Rouse…………………...............…………………………………………………….70
A new species of Rhododendron from Sikkim · C.S. Purohit & Ramash Kumar..............................................................................................................................76
New registrations 2017–2018 · Lesley Eaton………………………………......……..82
Australian Rhododendron Society contact information……………......……….84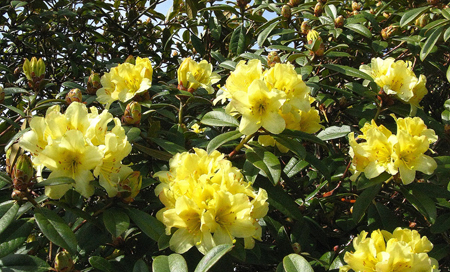 Latest Newsletters
SATURDAY 18th November 2pm. ARSV tea room, Dandenong Ranges Botanic Gardens, The Georgian Rd, Olinda