Emu Valley Newsletter – November 2020
Date:

4th November 2020

author:

Maurie Kupsch
RHODODENDRON PACHYPODUM
This rather delightful member of the Maddenia Subseries grows well here at Emu Valley. In bud this bush opens from a very nice apricot pink to become large white flushed pink flowers with a lemon-yellow blotch covering the bush from mid October, and the perfume is delightful.
George Forrest first collected pachypodum in August 1913 growing in open scrub and among pine forests on the western slopes of the Tali Range, Western Yunnan and introduced it to Western gardens in the same year, where it was found to grow to 1-1.5 meters in sheltered areas. Other collectors
were later to discover it in Guangdong in China and in Upper Burma.
As with most plants position plays a large part in growth habit. At Emu Valley they are grown out in the open and form compact shrubs to 1.5 metres. Plants can be found along the Noel Sullivan walk in the Yunnan area and along the Bob Malone drive in Upper Burma.
To read about the activities in Emu Valley please download their newsletter.
Latest Newsletters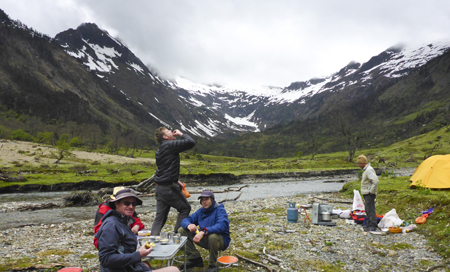 MORE