Emu Valley Newsletter – June 2020
Date:

11th June 2020

author:

Ant Dry
LEGENDS OF THE EVRG - Bob Malone
Bob Malone was a driving force in the recognition of species and hybrid rhododendrons in Tasmania. He was instrumental in the establishment of branches of the Australian Rhododendron Society in the north and south of the state and did much to encourage plant nurseries to stock rhododendrons. Bob was the inaugural president of the North West Tasmanian branch of the ARS in 1978 and set about educating others through garden visits and a library of books that taught members how to propagate, hybridise, protect against pests and cultivate. Up until the time of his death in September 1999, Bob remained the patron of EVRG.
Aside from his wealth of knowledge, Bob was a generous benefactor to the Emu Valley Rhododendron Garden. Living legends Maurice and Pam Kupsch recall the early days of Bob Malone:
In the beginning, while living and working in Rosebery on the West Coast, Bob Malone's interest in growing rhododendrons began as far back as 1965 when he planted his very first plant – the now much- maligned R. ponticum. 
To read more please download the newsletter
Latest Newsletters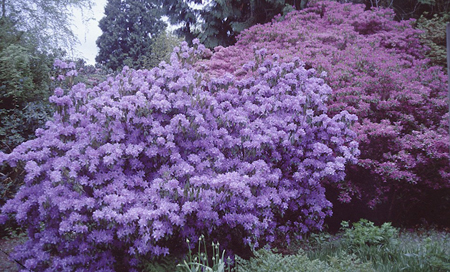 MORE