Emu Valley Newsletter – July 2021
Date:

5th July 2021

author:

Maurie Kupsch
RHODODENDRON DIELSIANUM VAR DIELSIANUM
In the early days of the development of the garden, 1984 in fact, we decided to see if we could successfully grow vireya rhododendrons in our cooler climate. First we tried the hybrids and found that they grew well under the cover of the tall blackwoods.
Next we decided to plant a number of species to test their ability to grow in our climate, plants of R. dielsianum were one of many planted - these also grew well.
R. dielsianum grows to a shrub to 1.5m in its native Papua New Guinea, growing epiphytic on tall trees even in dense shade or terrestrial in grassland and along roadsides. The small elliptic leaves are produced in tight pseudo whorls towards the end of the branches from where the rather small single or paired pale pink flowers appear once a year usually early winter.
At Emu Valley we find it quite easy to grow in the ground and it strikes well from cuttings.
To read more from Emu Valley Rhododendron Gardens please download their newsletter
Latest Newsletters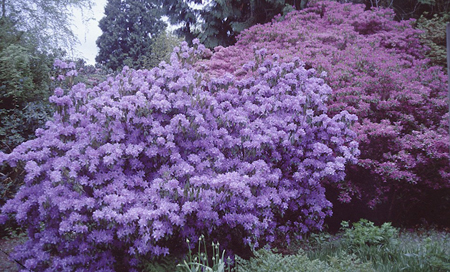 MORE