Emu Valley Newsletter – December 2021
Date:

21st December 2021

author:

Maurie Kupsch
RHODODENDRON GRIERSONIANUM
R. griersonianum is a plant much admired by hybridizers, as the brilliant geranium-scarlet narrowly funnel shaped flowers appear in late November/early December. This unusual colouring and late flowering means it has often been used to make many interesting crosses. It can easily be recognized by its long tapered flower buds similar to those of R. auriculatum.
R.griesonianum grows into a broadly upright shrub, 1.2-2.5 m high in cultivation, the upper surface of the lanceolate leaves are pale green with deeply impressed midrib and veins, under surface covered with a thick wooly, light brown indumentum. The foliage and flower buds are long and conical with the outer scales long and thin, the leaf and flower stalks, branchlets and even the outside of the flower are all densely bristly making for a very desirable plant.
George Forrest first discovered and introduced this interesting plant in June 1917 in the Shweli-Salwin Divide, west Yunnan also discovering it in the N'Maikha-Salwin Divide, north-east Upper Burma growing in pine and mixed forests. At Emu Valley the interested wanderer can see these plants in full flower at the beginning of December along the Noel Sullivan Walk where Burma meets Yunnan areas.
To find out about the current activities at Emu Valley Rhododendron gardens please download their newsletter.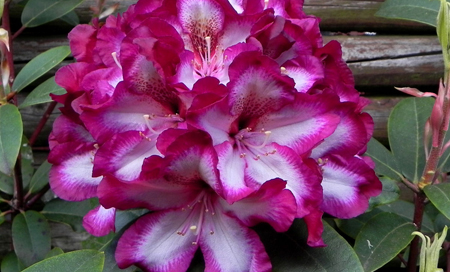 Latest Newsletters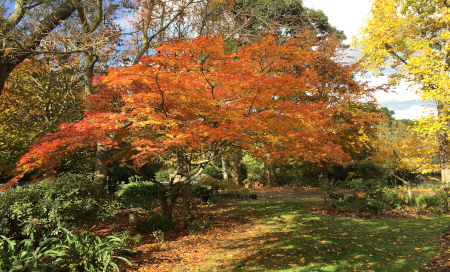 Saturday 23rd April 10am -3pm, Emu Valley Rhododendron Gardens, 55 Breffney Rd, Romaine, Tasmania