ARS Tasmania Newsletter – May 2018
Date:

26th April 2018

author:

Lesley Gillanders
IN MY GARDEN
One would think that being in hospital for weeks would be boring. First comes 6am and I am wide awake, then my breakfast arrives with my choice of cereals. After breakfast it's shower time then a rest until I am escorted to the gym for exercises. After 30 minutes here I am taken back to my room for more rest of maybe 30 minutes again. Morning tea is always welcome nurses pop in now and again to give me pills and an injection. Lunch comes about 12 noon, more rest after lunch then take a long walk or do more gym exercises. Back to my room for afternoon tea, more rest till 5pm when the evening meal arrives followed by supper at 7pm and the day is done after one more injection. Meanwhile my mind walks around the garden visualizing the flowers I am missing out on.
Crocus longiflorus has finished producing its lilac bluish flowers and C. mathewii which was named after our good friend Brian Mathew in England. It has attractive white flowers with a deep purple base in the interior on them. C. hadriaticus has large white blooms which catch the eye. I have probably mentioned the intense blue of Salvia patens several times but the same deep electric blue is also seen in Aconitum napellus. The common name is monkshood. There is a nice clump of them in the garden at the front of the house.
Sometimes Ken has brought in a flower or two from the garden while I have been in hospital, the latest surprise a spray of Lardizabala biternata with its deep chocolate flowers and creamy stamens which I have mentioned before. With these delightful hanging panicles was a contrasting flower of rich golden yellow heavily spotted on the interior of the bloom with terracotta red. This is a perennial from Japan which is growing in the shade under the flowering cherries outside the back door and its name is Tricyrtis macropoda.
To read the remainder of this and other articles download the newsletter.
LATEST NEWSLETTERS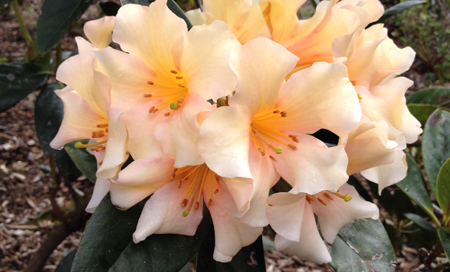 MORE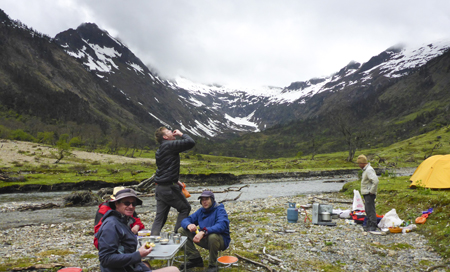 5-7 November 2020, Upper Burnie, Tasmania