ARS Southern Tasmania Newsletter – November 2017
Date:

1st November 2017

author:

Lesley Gillanders
IN MY GARDEN
It seems ridiculous that I am sitting here lamenting the end of the many flowers I have been admiring over the last two months and realizing that I will have to wait another year to see them again. A good mental shake brings me out of dream world and having a survey of what is in flower now, I see I will have more than adequate to write about. Perhaps the main theme should be on Rhododendrons as these notes are for our Rhododendron members.
Some gardens have large collections as in Woodbank at Longley, which we created, and is now in the care of Kerry and Harry van den Berg. On the other hand some members have tiny gardens with perhaps only one or two. Our new garden, now 5 years old is limited but we still manage to enjoy a few Rhododendron. R. 'Cornubia', a good early red, has just finished but next year will be bigger and the flowers will be produced over a longer period.
Sixty three years ago, when we lived in Boronia, Victoria, in 1954, a neighbour invited us to see his garden. This was the first time I had seen a Rhododendron and his garden was full of them. To cap it off, I was given a bunch of R.'Van Nes Sensation'. A lovely tall growing bush with delicate mauve blushed pink flowers. This will always be my favourite. Ken has just bought a plant of R. 'Florence Mann'. A delightful light blue. This is his second one as he lost the first plant we had, so hope this one will survive. This was named after the lady friend of Alf Bramley, the first President of the Australian Rhododendron Society when it was formed in Victoria. I remember he and Florence came to visit our garden at The Basin Victoria and he bluntly commented "This would be the worst soil he had seen". We were at the foot of The Dandenongs and they lived up the mountain on rich volcanic soil. Luckily Ken was not put off by the comment.
To read more download the newsletter!
LATEST NEWSLETTERS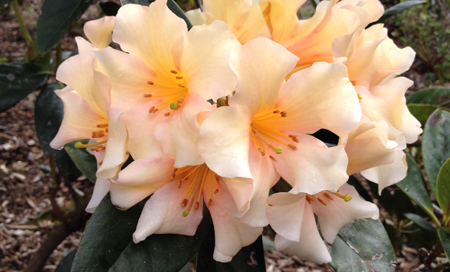 MORE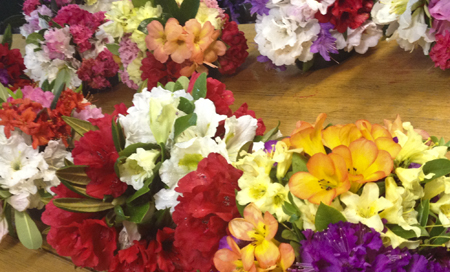 Saturday 26th October 10am -4pm, Dandenong Ranges Botanic Gardens The Georgian Road, Olinda, Vic 3788